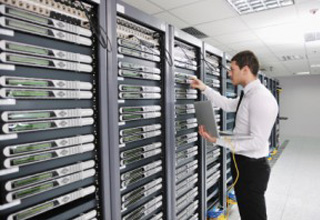 RO Anderson now offers a wide range of IT services for small business and individual users. Harnessing the power of cloud computing enables us to provide a level of support that once required full-time personnel and dedicated hardware resources. Whether you need a new IT infrastructure, or maintenance of an existing one, we have a solution to fit your needs.
Hosting You no longer need to set aside floor space to accommodate the IT equipment your business requires. Our access to the facilities of Latisys enables us to host servers, email, databases, backups, websites and even workstations in the cloud. If you prefer on-site hosting, we have the expertise to install or upgrade the equipment at your office.
Networking From the internet to your business network, we provide the connectivity, speed and security you require. Our ties to various ISPs enable us to find the best methods to get you access to the internet. Through our partnership with Sonicwall, we protect you from malware and hacking with a firewall.
Servers Virtualization has become the key to fully leveraging your investment in server hardware. Rather than the old model of one physical server providing one application, several virtual servers can be run on one host machine. This results in lower capital costs, increased utilization, enhanced redundancy and reduced maintenance expenses. Our use of VMware allows us to implement this technology.
VoIP Having grown in speed and reliability, VoIP is now a feasible business telephony solution. You can have the versatility in your phone system that was once reserved for your workstations. Voicemails can be delivered as emails. Adding extensions and modifying phone menus are under your control. 3CX software, Cisco handsets and our ties to Conway Communications make this possible.
Email Several solutions are available to support this vital business function. We install and maintain Microsoft Exchange servers with ties to workstations, VoIP systems and cell phones. Using industry-leading Barracuda hardware, we provide you with your own customizable spam filter to intercept unwanted messages and malware attachments.
Remote Access Myriad methods exist to keep you connected to your business data during road trips and for telecommuting. We cover the spectrum from limited access via Remote Desktop up to an encrypted VPN tunnel that allows you to use your office network from anywhere.
Document Imaging More than just a way to reduce your environmental impact, a document imaging system brings the convenience of electronic filing to your business. It eliminates the need for long-term physical storage of information while increasing productivity and ease of access. Within the framework of your filing system, locate documents using web-like content searches, use them like computer files and set up retention policies for legal protection. We are able to do this with Laserfiche software and our partnership with Precision Document Imaging.
Technical Support We'll reduce the impact of this necessary evil by setting up fixed-price contracts with well defined levels of service and terms for renegotiation. We can offer our services in this fashion because of a comprehensive suite of IT maintenance software provided by LabTech. Network monitoring, support ticketing, system audits, equipment inventory, anti-malware, user security policies, workstation imaging, software updates and live remote technical support are all integrated into one package. IT is in a constant state of flux and new solutions are being created every day. We enjoy the challenge of keeping abreast of these developments while offering value to our customers. You'll find that even if the needs of your business are unique, we'll find a way to meet them. We look forward to hearing from you.